New York Public Library is one of New York's many great architectural landmarks. The outer entranceways are home to some of the most famous statues in New York, Patience and Fortitude. These lions guard the once dry and overlooked architectural fountains, Beauty and Truth.
Beauty and Truth are architectural statue-fountains featuring Frederick MacMonnies sculptures of an aged, wise man and a young, Grecian-styled woman. The fountains also act as a keeper of the famous quoted works of John Greenleaf Whittier and [the Biblical] Apocrypha.
New York Public Library Fountains
The fountains, Beauty and Truth, were dry for almost three decades. During this time, the fountain components deteriorated. Plans to revive the fountain were started in 2013 by the library. Delta Fountains was called in to help provide an almost complete overhaul and upgrade of the mechanical components, including plumbing, piping, water quality, and controls. In 2015 the renovations were completed and the fountains are finally flowing again.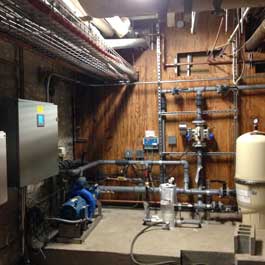 ---
This fountain in the news: