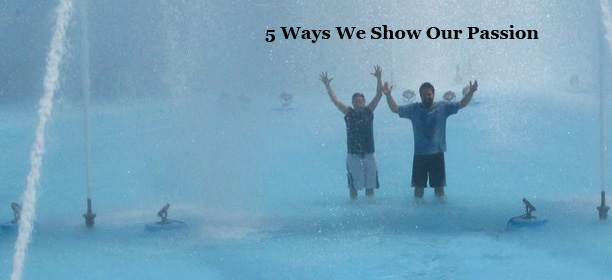 We recently read Entrepreneur Magazine's July article about "wild-eyed" passion and how it should not fit into your business model. We're all big fans of the magazine, but we have a hard time holding back our passion for this business. We'd even go as far as saying it's been embedded into our company culture, and maybe even our very pores, since we started 25 years ago.
So being inspired by Entrepreneur's 'curb your crazy' approach to exuding passion, and as a forewarning to our esteemed clients, we decided to explain exactly how we show our passion in this (completely not uniquely titled) "5 Ways We Show Our Passion"  list.
Patience – This is probably the last thing that comes to mind when thinking about passion, but it's been our experience that this is a necessary companion to have. We've poised ourselves to be steady and patient in every aspect of our business, from education to testing equipment. We know that those unwilling to wait for the right results, and quick to jump, are often the most unsuccessful. (Very anti "the early bird gets the worm")
Attention to Detail – We don't beta test our customers. We go the extra mile by testing everything we make before it gets to you. Our staff keeps up to date on the latest technological advances in our industry, and uses them to make sure our products are ready to rock and roll once they  land on-site. It's this teetering on the edge of O.C.D business model that helps bring our clients' visions to life.
Customer Service – Even in this digital age, we still believe in human to human contact. If our clients have a problem, we pick up the phone and walk them through troubleshooting, sometimes physically going to them, in order to come to a solution. We make ourselves transparent in all business interactions in order to create the long-lasting relationships we value. It might not be part of the more Internet-driven business practices we all strive for, but it works for us.
Energy – Some people may call it eccentric, but we like to call it enthusiasm. Spend one hour with us and you can tell how much we love this business. Our energy and passion can be seen in the way we talk, our overly dramatic hand gestures, and might as well be oozing out of our pores. We can't hold it in. We're bouncing all over the country to help our clients, build new relationships and fill the nation with fountains. We're ready for anything, coffee in hand.
Willingness to Teach Others – Unlike most companies that try to keep their designs and innovations to themselves – we don't. It all goes back to our transparency. We know we're in a niche industry. We don't expect everyone to know they need to waterproof their fountains or what allows the 9/11 Memorial to flow so high above the water. You're not psychics. We're more than happy to provide owner/operator training sessions, Lunch and Learn presentations for CEU's, and winterization advice. Our staff publishes case studies, blogs and a ton of additional resources to educate people on the art of building fountains via our website. We want you to fall in love with fountains as much as we have. The more our passion inspires you, the easier it is to gush about the latest 3D modeling show controllers and not seem like a "wild-eyed" crazy.
We hope you and Entrepreneur Magazine can forgive our enthusiastic "wild-eyed" passion after getting a better understanding of us, and how we make your vision a reality.
Related Posts