The Sand Filter with Automatic Backwash Valve is a great choice for water quality filtration. Automatic Backwash Systems provide automatic backwashing by a pressure sensor, timer, or combination of both. The controller controls the valve actuator and the filter pump.  
Sand Filters for Commercial Fountain Use
Sand filters are able to catch particles as small as about 22 to 25 microns, which makes them suitable for most fountains. Each state's Departments of Health has its own requirements for water features where the water may come in contact with the public, so it's important to discuss your filter choice with your DOH or one of our representatives prior to purchase. Sand filters come in several different variations, such as this one with automatic backwash valves, filters with manual backwash valves, and automatic backwash linkage.  For help choosing the correct sand filter for your project, contact our design department today.
Sand Filter with Automatic Backwash Valve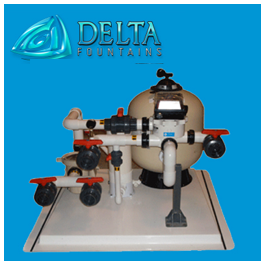 Why choose a sand filter for your fountain?
To find out more about which filter is the best choice your water features, read our article "All About Turbidity" here.
---
Technical Data Sheets
Sand Filter w/ Automatic Backwash Valve CAD
Sand Filter w/ Automatic Backwash Valve Cut Sheet PDF