Each Stainless Steel Ground Effect Sump can be custom-fabricated to any size necessary. The sump is an open reservoir that acts as a ground effect nozzle by allowing pressurized water to spray through the sump and out the ground effect grate, which sits flush with the fountain's dry-deck. All Delta Fountains' sump and grate assemblies include theft-proof fasteners.
Delta Fountains' Ground Effect Water Sprays
Ground Effects are a popular type of water spray, often used in interactive water features, splash pads and playgrounds. Since the sump grate is installed to sit flush with the fountain dry deck, it allows for less tripping hazards than other nozzles that may have some or all of the nozzle above-ground. This makes it a very safe choice to use in kid's splash parks. You can see a few of the different spray displays that this nozzle can product below.
For more information about these sumps, contact us today.
Stainless Steel Ground Effect Sump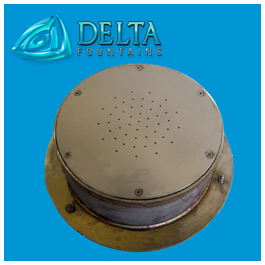 ---
Technical Data Sheets
Stainless Steel Ground Effect Sump CAD